For Sao Paulo check it out for more detail by clicking on banner below:

This week Richard L.Krabbendam the "Heavy Lift Specialist", presented his two day Masterclass/Seminar to an international group of participants at the Breakbulk Antwerp Conference & Exhibition, which took place  from the 13-17th of May 2013 in Antwerp, Belgium.
Below a series of pictures  of the participants which came from: Australia, Germany, Uruguay, Brazil, Chili, The Netherlands, Belgium, The UK, Japan, Spain, Bulgaria, France, Denmark, Italy and some Testimonials:
- This Seminar is very interested for me (especially for Transport with Hydraulic Trailers & Load-outs). I will recommend my colleagues to attend this one!!
- More Sea Transport & Lashing!!
- Great experience. Good lesson is: learn from mistakes: people usually want to forget!
- Fantastic Workshop! This presentation was excellent, perhaps 3 day Workshop would be better to allow to absorb the information
The next two Day Masterclass/Seminar "Heavy Transport & Lifting" is scheduled  on the 4+5th of September 2013 in Sao Paulo, Brazil. 

In case you want to train and educate yourself and operating crew, buy all updated digital files (900 Mb) containing all 

SEMINAR SLIDES

 of the succesful two day seminar "Heavy Transport & Lifting" ! Now as a bonus you will get 44 Video fragments (2.1 GB) added for the same price!!
All can be downloaded after successful payment with Credit Card, Giropay or Ideal. START NOW!!! 
HOW TO AVOID COSTLY ACCIDENTS!!
As a Free trial fill in your details at the right and get the report on how you can stop tipping over of transport combinations.
As a bonus you will get one of my personal detailed "CHECKLISTS" which will help you set up a crane or start a Heavy Lift transport or lifting project.
| | |
| --- | --- |
| Subscribe now and get the "Heavylift Tips" report free! | |
This message I received from one of my clients:
LinkedIn
Rohit Shenoy has sent you a message.
Date: 4/02/2012
Subject: Very Informative!!!
Dear sir,
It is my pleasure to inform you that I am a hardcore follower of you and the tit bits of info that you post in your LinkedIn profile is really really informative. Also the posts in the various groups that you post. All this gives me a real good idea of whats happening in this field of heavylift & transportation. Also i have your seminar materials and learned a lot from it. It is a must have for everyone in this field. I even check your website regularly for any updates.
Just wanted to inform you about this and how grateful I am to you for enlightening me in this field.
With due respects…
Thank you and cheers!!!
This Website offers contractors  a platform for their Heavy Transport & Lifting Projects  (On land as well as Offshore and at Sea)
Send me your pictures and videos with project description, or anything else which may be of interest to others and will contribute to the Safety in Our Industry!!
Click on Seminar slides and pay buy credit card and receive an e-mail link how to download all files.
Since I have started with my Seminars in May 2008, I have presented it to more then 1100 participants in a total of 50 Seminars. As one of the pioneers in presenting my experience in a two day "Heavy Transport & Lifting" Seminar, I decided to make all the Seminar slides available for those of you who want to educate themselves as well as their staff. I realize that there is very little written down on "Heavy Transport & Lifting" knowledge. Since June 2010, I have stopped presenting my Seminars "Heavy Transport & Lifting". Since July 2012, I have started presenting again on request of some clients with "In Company" Seminars and have committed myself to Breakbulk USA to do seminars in Mumbai (5+6 Dec 2012), Cape Town (April 2013), Antwerp (May 2013), Sao Paulo (Sept. 2013), Istanbul (Oct. 2013) and Mumbai (Dec 2013). 
Van Beest the manufacturer of the famous GREENPIN Shackles is one of the sponsors of this website. In case you are interested in a sponsorship, contact the heavy lift specialist through Contact. 
Below some video impressions of the Seminar "Heavy Transport & Lifting"
The Seminar slides can be presented as a two day Seminar,  starting at 09:00 hrs and ending that day around 17:00 hrs. The second day again at 8:30 hrs and ended at 17:00 hrs..
In the Seminar a lot of attention is dedicated to Safety, accident analysis and the discussion on how these accidents can be avoided will be dealt with as well.
This extensive two day Seminar is especially useful for i.e. Marine Waranty Surveyors, who know all about loading and securing heavy lifts on board of heavy lift vessels, but very little about transport of the heavy lift to the vessel, and that is where often the accidents happen, but also Freight forwarders and Project engineers find my courses very valuable
The Seminar is focused on operators, supervisors, engineers, sales engineers, freight forwarders and everyone who wants to know more about safely handling heavy lifts. All basic principles of "How to handle Heavy Lifts Safely" are presented. For more informatyion, check on the detailed program under Seminar/Masterclass Program
One of the example slides of the Seminar chapter 2: "Masses & Forces"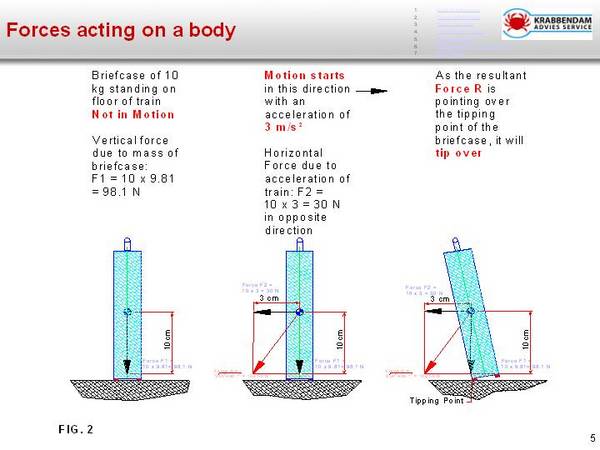 If you want to become part of the world-class companies in this industry, order the Seminar Slides
Knowledge, information and communication are the keys to your success
I am Richard L.Krabbendam, for 37 years employed in the Industry and known as "Heavy Lift Specialist", on land as well as offshore.
I like to share my knowledge and experience in heavy lift transport and lifting on Land with others by means of  900 mB's of digital files on Heavy Transport- & Lifting which are for sale on my webshop.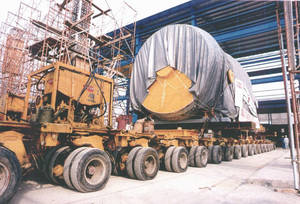 Where will you be in 5 years time and if you really look closely into your heart, where do you want to be in 5 years?
How do you tackle the work in your industry more efficiently? Do you ask yourself sometimes, how would someone else do it?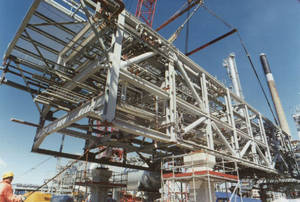 It is just like an orchestra. You are the director or player, but in order to play a nice tune, you first need to know your instruments well.
Break your daily routine and increase your knowledge!
You as well can learn a large number of "Tips and Tricks", which will serve you in your future career.
The Seminar slides are limited to operations carried out on Land.
You can now buy all Seminar slides for just Euro 150.– (in English language).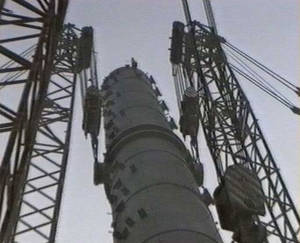 A detailed FULL COLOUR Hand-out is included of all presentations, as well as my "Heavy Transport & Lifting" articles (40) as one pdf file (120 pages).
More income and self-confidence are within reach.
"Heavy Transport & Lift" Seminar really took off!! 
"YOUR SUCCESS IS IN YOUR HANDS"
HISTORY
End Oct. 2009, the  English Two Day Seminar on "Heavy Lift Transport & Lifting" was given in The Netherlands.  In this Two day course Richard Krabbendam explained the basic principles on heavy transport and lifting. More then 50 Seminars were presented since May 2008.
With an introduction on Forces and Masses, he soon jumped on to the real things in explaning three- and four point suspension systems on platform trailers, stability of trailers as well as stability of cranes and loads. In the second day he continues on Maintenance and Inspection issues, Cost estimates, Project Planning, Skidding & Jacking Techniques, Load-outs of extreme Heavy Loads and Safety & Risk Analysis. Also a number of accidents are analysed in order to avoid makeing the same mistakes again.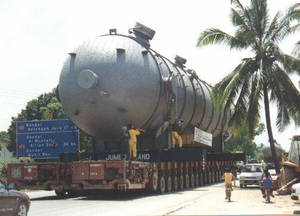 All participants were handed over a 200 page FULL COLOUR Hand-out (2 slides/page) containing all the 390 slides presented during the course. Also a double DVD with the title: "Lifting the Big Ones" was made available after the course.
These DVD's feature historical videos on lifting and transportation of large refinery columns and reactors using one, two or even three cranes. Using conventional as well as Self Propelled Modular Transporters (SPMT's). Single as well as multiple crane lifts are shown in the videos as well. The course was well received by the 38 participants during the two Day Seminar in Oct. 2009. Participants came from Insurance Companies, manufacturers, crane and transport companies, freight forwarders, classification societies, offshore contractors, consultancies and ranked from machine operators, instructors, project engineers, commercial representatives to planners and company directors. At the end of the second day a multiple choice test was done by all participants. A Certificate will be issued to all participants
"In Company" Seminars in English or in Dutch on request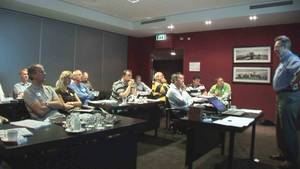 This Seminar is practical and focused on employees (from operator, supervisor to project manager / director, Marine Warantee surveyors etc.) in the heavy lift transport- and crane rental business.
By means of extensive Power Point presentations and Video footage you will be shown how it should not be done and how it can be carried out correctly.
A FULL COLOUR Hand-out of all presentations will be given to participants. This Hand-out is a detailed book which can be used as a Reference book after the Seminar and contains a lot of tips and trics as well as pictures and sketches.
During the two day Seminar you will get an inside view of the heavy lift transport- and lifting branch.
There is sufficient opportunity for questions.
Coffee, thea , lunch on both days as well as drinks and dinner on first evening are included.
This is an ideal way of Networking!!
Picture Gallery of Heavy Lift Transport & Lifting
For any comments or suggestions send me an e-mail, so I can improve this website
Disclaimer: Krabbendam Advies Service (KAS) is located in Capelle aan den IJssel and enlisted at the "Kamer van Koophandel" te Rotterdam (Chamber of Commerce in Rotterdam) under the business register number 24182504. It is my mission to improve the Safety in the Heavy Transport & lifting Industry. The described lecture program of the Mini- Seminars and more extensive courses is only a guideline of subjects that will be lectured. Depending on the wishes of the participants we reserve the right to deviate from this program. The confirmation of the actual Seminars or extensive courses is subject to a sufficient level of participation. In case of enrollment and subsequent seminar/course cancellation, the participation fee will be returned within four days after cancellation. Krabbendam Advies Service (KAS) is a consultancy service for the Heavy Lift- and Transport Industry, and organises amongst others Seminars and produces Multi Media Productions for the Heavy Lift and Transport branch. A summary of activities and seminar programs which are organized by Krabbendam Advies Service as can be found on this website, has been composed with utmost care and is based on extensive experience in the Heavy Lift- & Transport Industry. No rights can be claimed from this information. At all times the operating instructions and guide lines of the manufacturer must be followed.
Copyright: Krabbendam Advies Service, all rights reserved
"In Company" Seminars were presented at: Bay Crane Services New York, Sevan Marine APL Norway, Larsen & Toubro Chennai, India, Yew Choon Singapore, Agility Transoceanic Netherlands, Shell Netherlands, Eurorigging Netherlands, IHC Merwede, Westdijk Exceptional Transport, Wagenborg-Nedlift, Ravestein Netherlands, Allseas Netherlands, Lloyds Register Rotterdam, Broekman Freight Forwarders/Terminal operator Rotterdam, Kalmar Rotterdam, Workfox Hoofddorp, Bluewater Hoofddorp, Bertling Freight Forwarder London, Fracht AG Frankfurt and Alstom Baden Switzerland, Huisman Fujian Steel Manufacturing Co. Ltd., China, Sarilar Crane & Transport Co. Turkye, MELI (Middle East Logistics Institute for Training), part of the Al Majdouie Group of Companies, DHL Industrial Projects, LV Shipping, Power Grid Corporation of India, Hollandia Steel Structures,Holland, Coordinadora International de Cargas, Spain, Public Seminar in Mumbai, TTS in Drobak Norway, Fujian Huisman Steel Manufacturing Company, Xiamen, China.