Load-out of a 450 Tons Jacket 1987

A steel offshore jacket of 450 ton loaded on 4 individual  sets of SPMT's was rolled out of the workshop and had to make a 90o turn in order to get it to the water front where is was picked up by two floating sheerlegs.
Due to inaccurate software and inexperience it was not as easy as we tought. It took us a full day to complete the job safely. We had learned a lot from this project.
That knowledge and experience is shared with you in my Mini-Seminar.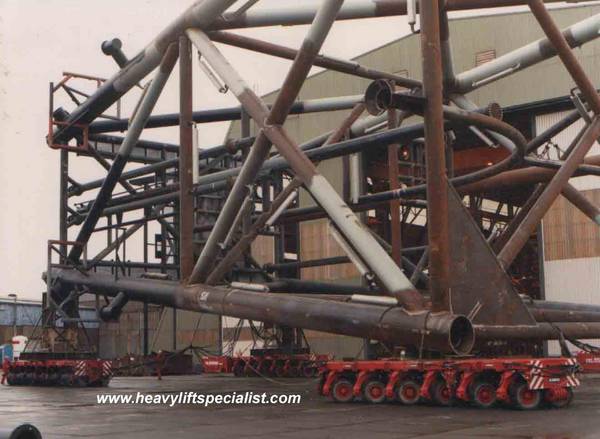 The jacket was loaded on 4 sets of individual 6 axlelines SPMT's. Especially the slender end of the jacket with the high steel support structure made us to be very careful.
Executed at the Offshore yard of Mercon in Gorinchem, Netherlands

With Kamag SPMT's it is possible to make a carousel move (on the spot turning)
We rolled out of the workshop and turned the load 90o and rolled to the water front.